What: DoorDash is a food delivery service that asks independent contractors to use their car, gas and time  to get as little as $1 plus tip.
Expected pay: $5 – $12 per hour
Husl $core: $$$
Where: 
Major U.S. cities
Requirements:
Drivers must be 18 or older

Cannot have any major driving violations in the last 7 years,

Must pass a criminal background check and an individualized assessment.
Review:  
We initially gave DoorDash a substandard Husl$core because of a pay model that allowed the company to abscond with the driver's tip. We've updated this rating to neutral because the pay model is changing — though has not yet changed nationwide — in ways that are likely to be beneficial to drivers. Here's what happened.
A New York Times reporter named Andy Newman decided to put himself in the shoes of a delivery driver. He tested an array of platforms, including Uber Eats, Postmates and DoorDash. His subsequent story "My Frantic Life as a Cab-Dodging, Tip-Chasing Food Deliveryman," raised such a furor that DoorDash is rethinking its policy.
Customer furor
Notably, the DoorDash pay policy was understood by drivers. But, customers assumed that when they tipped through DoorDash, the driver was getting the money. Instead, tips often subsidized DoorDash's guaranteed delivery payment. To avoid losing customers to GrubHub (which does pass tips on to drivers), DoorDash CEO Tony Xu told the New York Times that the company was rolling out a new pay model. 
The promised new pay model: 
Delivery drivers will get at least $2, plus tip. (The old model was $1 plus tip, or a guaranteed payment, whichever was more.) The company also promises to let drivers know where the pick-up will be; where they are going; and the total value of the job (including tip) prior to accepting a delivery. This is notable because delivery drivers often are forced to accept jobs before they know where they're going. When DoorDash implements this new policy, would be one of the few delivery services to give drivers sufficient information to know whether a delivery was worth their time.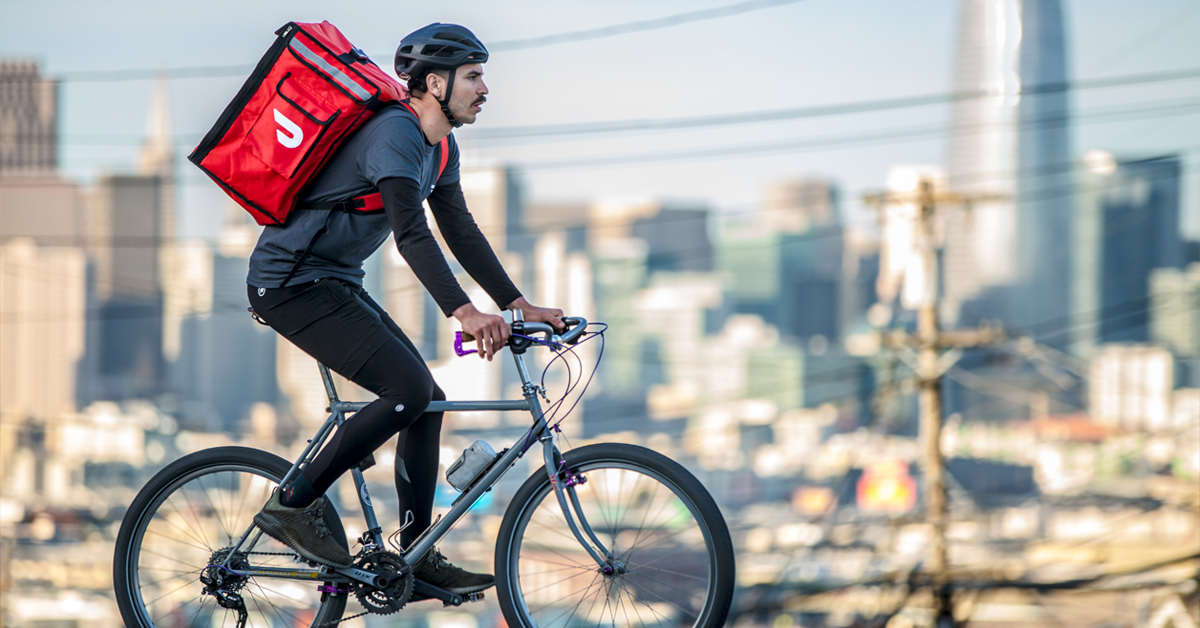 That could make DoorDash one of the better delivery services for drivers. However, we still believe that earning the company's promised $20 per hour is a long-shot. Moreover, this pay model is still just a promise in most of the country.
Other details of driving for DoorDash
The company sells you — doesn't give you — the uniform and gear that they want you to wear. It's $4 for a t-shirt; $12 for a pizza bag and $14 for a catering bag. 
The site has a second service called DoorDash Drive that guarantees somewhat better pay for bigger orders. But to qualify, you need to have at least two catering bags. These orders are likely to take more time, since you may need to help set up. So expect that there's little opportunity to do more than one per hour. 
Other options for delivery drivers: Caviar, Grub Hub, Favor Delivery or Deliv.
What their drivers say:
(from Indeed.com.)
Here's an example of how the new pay model works: You receive an order worth $7. That $7 is calculated as the total worth of the job completed. So, if customer tips you $2, Doordash will pay $5 in addition to make it total of $7. If customer tips you $6, Doordash will pay $1 in addition the tip to make it $7.  It doesn't matter whether you drive 1 block with no pickup waiting time or 10 miles with 1 hour waiting time, you'll be paid by Doordash based on how much tip you received. The amount you see on the screen upon order acceptance is the total amount Doordash calculates the is job worth."
"Can be good on a busy day or night, but some days are much much slower. One day I worked a half an hour and got 15 dollars which is awesome, but another day I worked for 4 hours and got 2 deliveries and only 12 dollars. Also you are NEVER compensated for the gas you use and are often found (depending on your location) having to pay for parking. You are NOT paid for the time you work so when restaurants are slow with deliveries, you are losing money."
"When I first started dashing, it seemed great. They offered hourly minimums, incentives, and I was my own boss. But things changed quickly. They took away hourly minimums with NO notice and replaced them with "peak hours" where you can make a minimum (significantly less) per hour if you meet a number of requirements. It has become more trouble than it's worth, and I regret the time I gave it."